Photo: Ben Conway

 
Amazing! See How Teenager Climbs The Highest Mountain Wearing 5-Inch Heels
Ben Conway, a 19-year-old Teenager has done the seemingly impossible by climbing the highest mountain in Egypt wearing 5-inch heels. Amazing! See How Teenager Climbs The Highest Mountain Wearing 5-Inch Heels
According to odditycentral, at 1,345 meters above sea level, Ben Nevis is definitely not the World's most difficult mountain to climb. But things get considerably trickier if instead of hiking shoes you put on a pair of 5-inch high heels, especially if you're a guy. But one English teenager recently proved that it's not impossible.Amazing! See How Teenager Climbs The Highest Mountain Wearing 5-Inch Heels
Ben Conway, a 19-year-old art student from London, recently took up the challenge of hiking up to the top of the highest mountain in the UK in high-heel shoes, as a way to stand out in an application for a scholarship for the School of Communication Arts in Brixton. Applicants were asked to "make something passionate about something that they are passionate about," and since Ben loves drag culture and has been scouting for 13 years, he decided that marrying the two hobbies was a good idea.
Photo: Ben Conway
"I needed to think of something difficult to do and I also love drag culture. I have also been scouting for 13 years and the challenge sort of married the two," Conway told The Scotsman. "I picked Ben Nevis because it is the biggest. I thought if I'm going to go for it, I'm going to go for it properly. It was all a bit spontaneous."
Conway started his unusual high heel climb at 8 am, on June 27, and was joined by Callum MacKenzie Allen, a friend from his art foundation year, who videotaped the whole thing for a two-minute video that served as his application project. The whole climb took five hours and wasn't the smoothest experience. Amazing! See How Teenager Climbs The Highest Mountain Wearing 5-Inch Heels
Halfway up Ben Navis, one of his shoe straps broke, so he had to tape the shoes to his feet to make sure they stayed on. The weather didn't make it easy for him either, as he claims that it rained pretty much the whole time, and he had to withstand 40 to 50 miles an hour winds. Due to these difficult conditions, Ben and his buddy had to turn back after reaching 900 meters up the mountain. He wore hiking shoes on his way down.
"I've never climbed up a mountain before and it was also my first time in heels," Conway said. "Most people have been super positive but some people have been down on it, saying I should have thought about health and safety. I've hurt myself more on nights-out in London than wearing high heels up the mountain because I had socks and bandages on."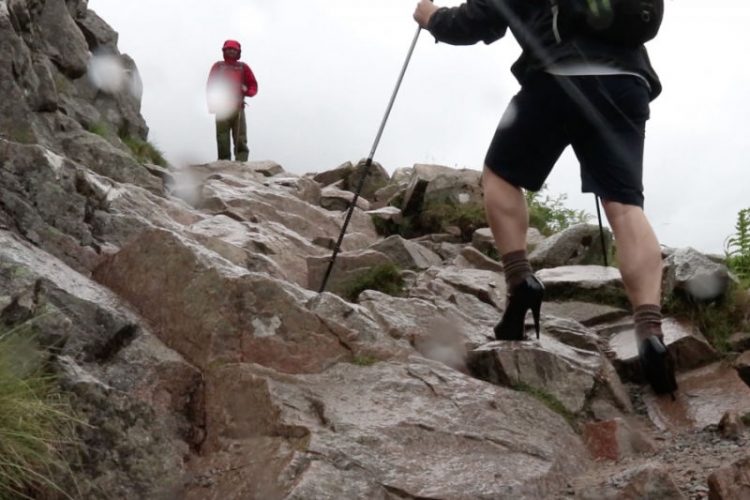 Photo: Ben Conway
Apart from providing a unique art school application project, the high-heel climb also allowed the 19-year-old to raise some money for worthy causes, like the LGBT rights charity Stonewall, and Sal's Shoes, which provides footwear for barefoot children around the world.
"Raising money for charity brings happiness to people's lives and if I can do something ridiculous and bring someone happiness, then that's what it's all about," Ben said.