4 Signals that show your man is weak
A truly weak man is someone you have to carry with you for the rest of your life.
You do all the dirty labour, and he's just along for the ride, rather than having an equal relationship.
Even if it might bring out the side of you that is nurturing, you'll quickly grow tired of it and hand it over to a responsible man.
Read Also: Humour – Key to a fruitful relationship
1. He doesn't pay attention:
Every dedicated man in a relationship owes it to his partner to listen to him. In topics concerning their relationship, he must listen to his partner's wants, suggestions, and advice.
This does not imply that they will agree, but rather that they will listen to what their partner has to say and go from there.
2. He does not defend you:
A man must defend his lady, his pals who are verbally abusing you, or a random guy in a bar.
They're supposed to be your cheerleaders. A weak man will either ignore it because he does not want to get involved, or he may join in and tease you. That, however, is not a real man.
Read Also:
3. You make all of the decisions:
He doesn't participate in the planning of any event, whether it's a dinner date or a friend's wedding.
A weak man is someone who relies on others to do their tasks for them. They don't want to be leaders; they just want to be followed and cared for.
4. You are the one who cleans up after him: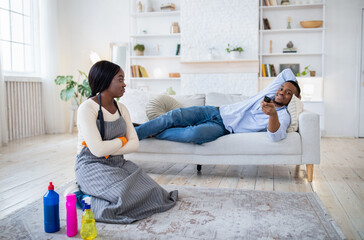 He leaves his clothes strewn around or has food wrappers strewn about, but the point is, despite the fact that he is capable of cleaning up his own mess, he does not. He prefers to wait for you to do it. In more ways than one, you clean up after him.
You're the one doing his dirty work if he has outstanding bills or wants a reason to skip an occasion. It's as if he's a gigantic baby.
Read Also: 5 Fruits and Vegetables that can make you happy
Please follow @Familylifeline on Facebook