Arsenal target and Barcelona star, Ousmane Dembele, hints on Emirates Move
The French forward is about to make a move to the Emirates this summer, reports have it that the French International is eyeing a reunion with his former Dortmund striker Pierre-Emerick Aubameyang.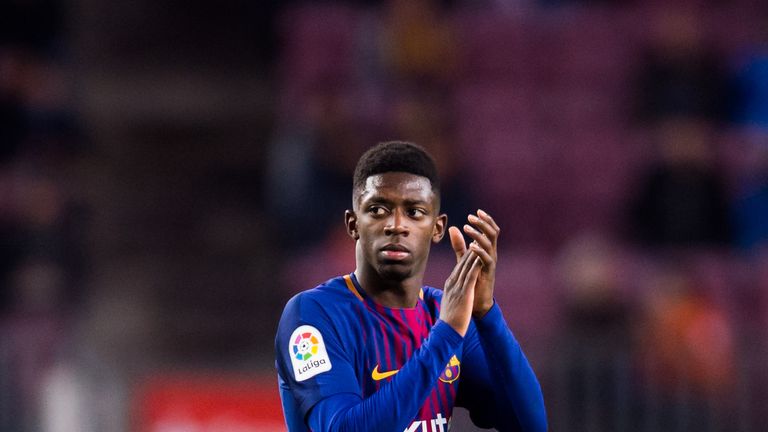 Dembele only moved to Barcelona last summer in a mega £135.5m deal from Dortmund, making him the third-most expensive player ever – after Neymar and Kylian Mbappe.
But after the Gunners employed the services of Dortmund's transfer guru Sven Mislintat, it has been reported that the German has made the youngster his top target. Dembele is the next target for the new transfer scout who has successfully brought two former Dortmund stars in Henrikh Mkhitaryan and Pierre-Emerick Aubameyang to the Emirates.
Mislintat was the man that took Dembele to Dortmund from Rennes, where he was compared to the likes Cristiano Ronaldo.
Bride Price Palava: My Fiancee (Episode 2)
I marvelled at the list of items that my intended in-laws had given me. Did I tell you I was asked to buy wrappers, like Hollandis wrappers, 80 yards, for the UMUADA'S (first-born daughters of the family)?
I looked at my present account balance and all I could see was bankruptcy!! And you know, I can't marry on credit! It's a cash and carry matter!
I took my phone and started calling family and friends. Some of the contacts of people that were on my phone that were redundant suddenly came back to life that very day.
I actually called Chukwuemeka and the first thing he asked me was ''guy you still dey alive? So, you still get my number?
Following the first question, I was dumbfounded. Where will I start from? This is somebody I have spoken to for years now, calling him and asking for money will look odd. At least a person who sells eggs in the market should be conscious enough not to start a fight at the market square. I had to immediately drift the conversation like I normally do when I play my favourite video-game (Asphalt 4 Motor GP). We exchanged pleasantries, reminisced the past, and I immediately hung up. I stared at my ceiling for hours. It obviously came to my notice that the ceiling had six rolls and 12 columns. That was the first time I actually noticed the ceiling, though I have been staying in the house for the past five years.
I had this confidence in me that I will get the needed money to marry Nkechi come rain come shine, whether the Nigerian economy likes it or not, after all, he who swallows a complete coconut has absolute trust in his anus.
For me to choose Nkechi, an Igbo girl to marry, I trust my capabilities of doing what comes with it. To whom much is given, much is expected!
I was about going to bed when the love of my life called in, her voice was as angelic and calm as a sea.
Nkechi actually called to ask how far I have actually gone with the list and reminded me of the date we fixed for the traditional marriage proper.
I suddenly realized that the date of the traditional wedding was fast approaching! The day seemed to be running faster than its shadows! I told her the situation of things, without hiding any single thing from her, after all, it is only when you tell the pharmacist your illness that he/she can actually administer drugs to cure you.
Being a very shrewd and reasonable girl, she gave me hints on how I could actually manoeuvre the whole process by bringing what I can afford, she even offered to lend me some money to buy the items needed, But I rejected vehemently!
A wise fish should know that a beautiful earthworm that looks so easy to swallow, has a sharp hook attached to it. Accepting favors like this will portray me as incapable as a full-blooded Nwa Afor Igbo! (Son of the soil)
To be continued.
Follow us on Facebook – Dailyfamily.ng, Twitter – @DailyfamilyNG , Whatsapp +2348188889427, BBM PIN D86722A7 and instagram @dailyfamilyng for more updates.