Guardi
Manchester City have crashed out of the Champions League thanks largely to a dire first-half showing in Monaco which not only undid their first-leg heroics but has also ensured their recent progress has gone to waste.
Pep Guardiola has overseen a significant turnaround in performances and results since City's Premier League title challenge unravelled at the start of December, but with elimination from Europe on Wednesday night, they now face the prospect of the season petering out.
There is an FA Cup semi-final against Arsenal, which is just a reward for their form at the start of 2017 and which may yet deliver a trophy to end Guardiola's first season in charge at the Etihad Stadium. It is certainly not beyond them.
But only a second-ever appearance in the Champions League quarter-finals is now out of reach. It is the first time Guardiola has gone out at this stage in his career and given City reached the semi-finals last season there will be inquests to determine whether the Catalan has indeed taken the club forward since replacing Manuel Pellegrini.
He has clearly got City on the road to where he wants them to be, and that in itself should be regarded as progress, even if there were few positives to come out of Wednesday's disaster.
It was a soporific first-half display which eventually did it for them. City simply did not turn up. They were outmaneuvered in midfield which allowed Monaco to stream through in attack and stop the visitors from getting any kind of foothold on the match.
Kevin De Bruyne's form has dipped a little of late but here he was the worst player on the pitch. Fernandinho had a first-half shocker, too, though he was swamped as Monaco easily broke past De Bruyne and David Silva.
The hosts' full-backs also provided the latest reminder of exactly why Guardiola wanted to overhaul the position last summer and why he will do so in the coming months. Benjamin Mendy and Djibril Sidibe were fast, strong and alert both going forwards and backwards, and they kept Raheem Sterling and Leroy Sane quiet while threatening City's own ageing full-backs, Gael Clichy and Bacary Sagna, who are both out of contract this summer and will not be retained.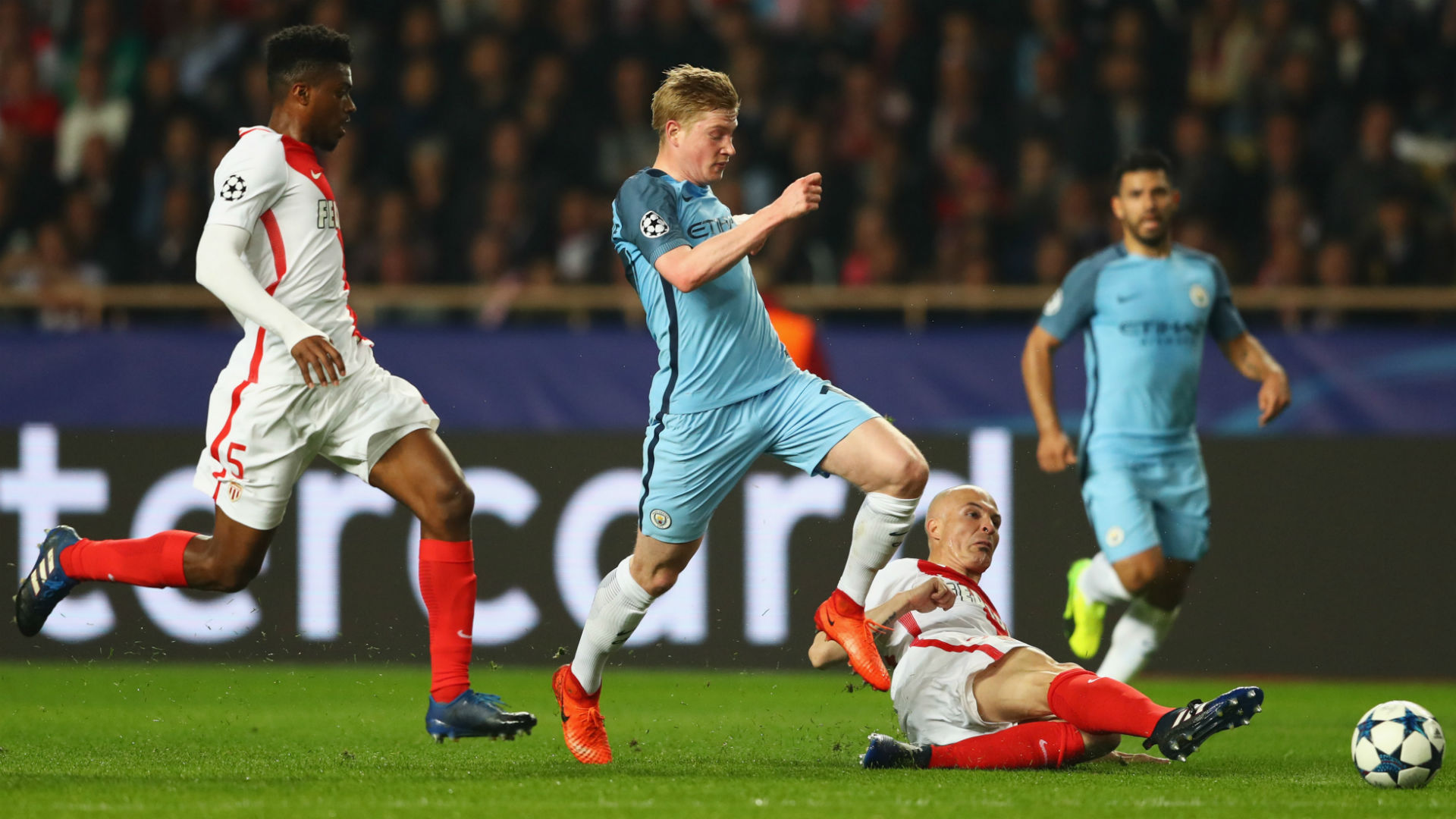 Goals from Kylian Mbappe and Fabinho were the least Monaco deserved, and it seemed Guardiola would have to make a change at half-time.
He did, but not by bringing on Yaya Toure, who has been in fine form since his shock return to the team in November. De Bruyne was moved deeper to offer more protection and to get himself into the game more, and it must be said it worked – it was just unfortunate for City that he could not produce his usual magic when he was in possession.
"We had a great second half," Guardiola said afterwards. "We showed great personality in a difficult situation away from home. We could have scored three or four goals but we didn't manage to do so. But you cannot have a 45 minutes like that at this level. But we've had a good Champions League. We'll learn from this lesson and try again next year."
Guardiola's men did indeed show great character to shake themselves out of the first-half stupor but they were also aided by Monaco, who came so close to blowing it by sitting back for much of the second half and waiting for City to come at them. It always looked like they were playing into the visitors' hands and so it finally proved when Sane raced in to tap in the loose ball from close range, having earlier seen Sterling and Sergio Aguero miss fine chances.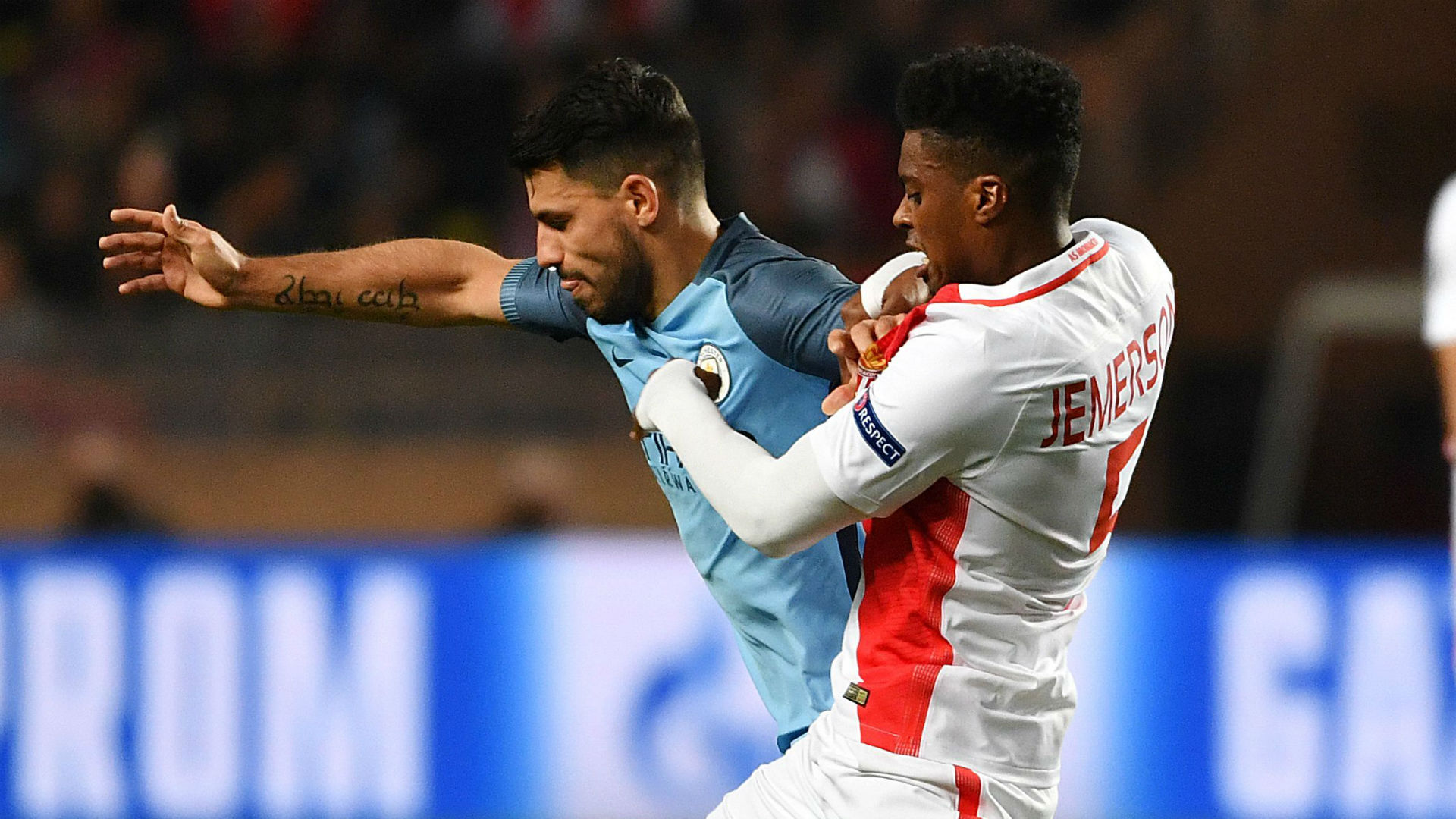 City would have gone through at 2-1 but another of their weaknesses was exposed as Monaco grabbed the tie's decisive goal. Guardiola, realising the tools he has to work with only after some humbling defeats in December, has simplified his tactics and tightened his rearguard considerably as a result, and had been rewarded with seven clean sheets from 10 games heading into this clash.
But he knows that, individually, many of his defenders will always be prone to mistakes. This time there was a collective lapse as City allowed Tiemoue Bakayoko to glide into the box unmarked and head home.
City got away with their mistakes in the first leg but would not here. That game at the Etihad Stadium encapsulated the current state of this City team; vibrant up front and better at the back, but by no means the finished article.
In the south of France on Wednesday, however, their weaknesses were ruthlessly exploited and their serenity in front of goal deserted them.
The first leg summed up the state of the City squad and hinted at better things to come, but the tie overall highlighted their current standing in European football. They are far from a Guardiola team. They are not good enough.
Follow u on twitter @dailyfamilyng
ola suffers earliest champions league exiever, as Manchester city crashed out of the league