Three people have been reported dead in multiple accidents that occurred on Kara Bridge along Lagos/Ibadan Expressway involving six vehicles in the early hours of Wednesday.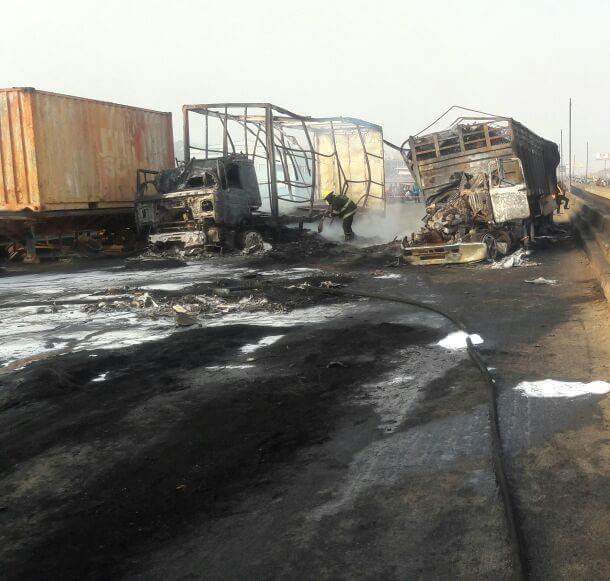 Mr Ibrahim Farinloye, the South-West Public Relations Officer, PRO, of the National Emergency Management Agency (NEMA), confirmed this in a message he sent to the News Agency of Nigeria (NAN).
According to his report six vehicles comprising a car, three containers and two tankers were involved in the accident that happened around 3.08a.m.
The text also quoted the South West coordinator of NEMA, Alhaji Suleiman Yakubu, as advising motorists on the Lagos-Ibadan outbound route to take, alternatively, the Ikorodu route to avoid the gridlock.
According to eyewitnesses report, the accident was caused by a speeding trailer loaded with petroleum product which ran into other vehicles, spilt its content on the road, the content exploded and the fire extended to the other vehicles.
Fadele, a butcher, said that the accident was caused by a fast-moving unmarked trailer loaded with petroleum product that ran into other articulated vehicles and immediately exploded.
"I was waiting by the roadside for my friend with some others to display our beef for the early morning market sales.
"Suddenly, I saw a trailer on top speed moving toward our side and passed us.
"A few metres away from us, we heard a loud explosion which made us run for dear lives, and afterwards, we saw huge billows of fire on the bridge.
"We realised that the trailer must have rammed into other articulated vehicles on the bridge because there were many of them there as at that time.
"The problem with the accident is that nobody could move near the scene because of the raging fire,'' he said.
Another witness, who simply identified himself as Bashir, lamented the reckless and dangerous manner articulated vehicles usually drive on the road.
"What caused the accident was simply speeding. The driver of the tanker was on top speed and I wonder why such a speed.
"Before I could look ahead, he had rammed into another trailer ahead of it.
"When the trailer sped past us, we remarked that its driver was speeding and within a twinkle of an eye, we heard the loud bang followed by a raging fire.
"There was another trailer under repair on the bridge which I think was loaded with rice; the trailer must have rammed into it, Bashir said.
Officials of the Federal Fire Service were seen making frantic efforts to put out the fire alongside with officers of the Federal Road Safety Corps (FRSC) cordoned-off the area to prevent other losses.
Also read: List of Prohibited Routes for Motorcycles and Tricycles in Lagos State (Sections 3)
Follow us on Facebook – Dailyfamily.ng, Twitter – @DailyfamilyNG, Whatsapp +2348188889427, BBM PIN D86722A7 and Instagram @dailyfamilyng for more updates.