Live: Manchester United 1-0 West Ham United
Romelu Lukaku scored on his league debut for United. It was a simple goal, whacked in off the post from 10 yards.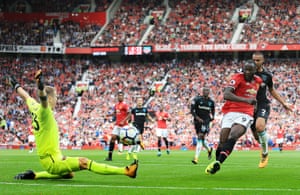 Manchester United is currently leading their visitor West Ham United by two goals to nil.
Goooooooal…… Romelu Lukaku is currently on fire. He just scored the second goal for the Red Devil.
Romelu Lukaku -first goal 33min
Romelu Lukaku-second goal 52min
Goooooooal….. A.Martial has just scored the number 3 goal (87)
Goooooooal…… P.Pogba  just put in the number 4 goal (90)
d