MEET THE 14-YEAR-OLD BOY WHO STARTED SYRIA WAR, WHAT IPOB AND AREWA YOUTH SHOULD LEARN FROM HIM
 You must have been hearing about Syria war, the war started in 2011 is has led to the death of about a Million people, brought Syria to its knee, allows Islamic state to take over part of the Country even made Ragga a city in Syria its Defacto headquarters.
 In 2011, what became known as the Arab Spring revolts toppled Tunisian President Zine El Abidine Ben Ali and Egyptian President Hosni Mubarak.
    That March, peaceful protests erupted in Syria as well, after 15 boys were detained and tortured for having written graffiti in support of the Arab Spring. One of the boys, 13-year-old Hamza al-Khateeb, was killed after having been brutally tortured
   The Syrian government, led by President Bashar al-Assad responded to the protests by killing hundreds of demonstrators and imprisoning much more.
     In July 2011, defectors from the military announced the formation of the Free Syrian Army, a rebel group aiming to overthrow the government, and Syria began to slide into civil war. 
    More than 6 years after the first bullet was shot, the boom of guns continues, Bombs are been thrown, fighter jets are busy around the Country Iran and Russia are making brisk business, selling weapons to Syria Government, death becomes cheap, peace becomes elusive.
    Dailyfamily.ng investigation about Syria war shows this devastating effect, as at the time of this report:
4.9 Million people are living in hard to reach areas far from civilization
About 1 Million dead
More 1 Million wounded
700,000 trapped in besieged areas
6,3 million internally displaced
2,4 Million Children who are refugee
306,000 Children born as refugee
200,00 Children in besieged areas
Millions of refuge across the countries of the world
The Syrian civil war is the deadliest conflict the 21st century has witnessed so far.
Thousands of Bombs dropped over Syria.
   Could you believe that this war that has destroyed many lives, scattered  Families and destroyed normal live in Syria in the last Ten years was started by a 14-Year-old boy called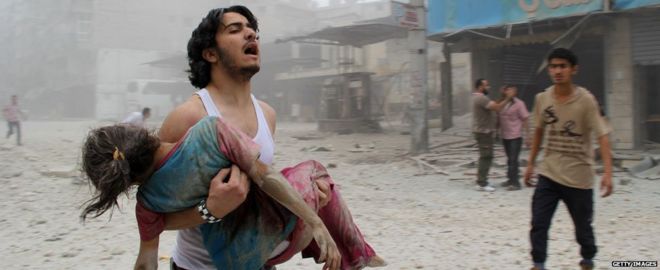 Mouawiya Syasneh, it was his  anti-Assad graffiti that lit the spark that led to the war that has affected the once beautiful Nation, that was once a Tourist destination to a stand still and a theatre of testing every new weapon by super powers
    Mouawiya Syasneh was just 14 when he sprayed anti-government slogans on his school wall in Deraa, Syria. It was February 2011, and he could never have imagined that such a minor act would spark a full-blown civil war.
   Like other Syrians Mouawiya had suffered seriously because of the war, his home city has been ravaged by street fighting, shelling and barrel bombing. His family destroyed, The war has left scars that may never heal.
  He is now a young man, he has to stop schooling, he is fighting on the frontline for the Free Syrian Army, a rebel group leading the war against President Bashar al-Asad.
     Mouawiya admits that had he known what the consequences of his actions would be, he would never have taunted the country's president, or say or the hate speeches that encouraged youth to flock the street in protest, leading to riots, civil disobedience and later turned into a full-blown war that nobody seems to be winning.
   His life has been transformed by that adolescent prank. He has lost friends and relatives, including his father. And Syria has been changed forever, may be beyond repair.
   IPOB boys led by Nnamdi Kanu who are calling other Nigerians animals, Nigeria as Zoo, and Arewa youth who are issuing a threat and quit notice to Igbo can borrow a leave from this boy and the Syria war as a whole.
    Let stop all hate speeches on the street and all social media, let live together in harmony, we've been together for a long time to forget our history too soon.  Animals don't die in war, it's the Human lives that are wasted.
   One wise man said, in "peace time, Children bury their Parents, in war time, Parent bury their Children"  to me that is for somebody that has the privilege to be buried, in many wars the dead remain unburied as everybody tries to protect their lives. Progress does stop, economy and family life do grind to a halt.
     We call on the Federal Government to address the issue raised by agitators, let sit down and talk about our future and the future of our Children, we must not turn this Country to another Syria.
Follow us on Facebook – Dailyfamily.ng, Twitter – @DailyfamilyNG and instagram @dailyfamilyng for more updates.