5 Health Benefits of Reading Books
We live in a period when reading books is considered archaic or outdated. It isn't simply the children who are affected. Adults, too, do not read as much as previous generations did. They are either too preoccupied with work or prefer to watch movies, play games, or play with their phones. We bring to you 6 Health Benefits of Reading Books:
1. Books relieve stress:
When you're anxious, it's clear that something is going on in your head that's causing you to overthink things. If you take out a book and begin reading it in such a scenario, you will be diverting your attention away from the difficult topic and transported to a realm of fiction and literature. This helps you relax, and as we all know, a calm mind is better at problem-solving than one that is tense.
Read Also: Here's why you shouldn't drink water just after you eat
2. It cures insomnia:
Many people suffer from insomnia and would go to great lengths to acquire a decent night's sleep. This is how reading affects your entire body and mind. It relaxes you and tells your brain it's time to unwind and shut down. We are constantly engrossed in our cellphones and laptops, and the lights emanating from them tell our brains to stay awake. As a result, when you're reading quietly in a darkly lit environment, your brain thinks it's time to sleep. If that isn't enough to get you to start reading, I admire your capacity to get enough sleep.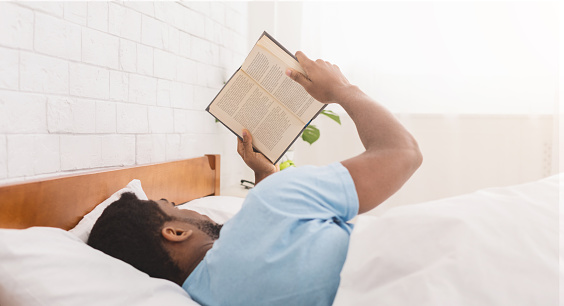 Read Also:  5 Foods that can Aid Digestion
3. Boosts your creativity:
This is my particular favourite point and one that I can connect to and back it with data. Your overall creative levels will rise by leaps and bounds if you read on a regular basis. Why? Because you are now gaining a great deal of fresh information and knowledge that you may apply in your daily life. Not only that but reading the work of other authors gives you a complete picture of how they think and perceive things. This broadens your horizons, allowing you to incorporate tidbits from one writer and a few others to boost your own creativity.
4. Makes you smarter:
There's little doubt that those who read are smarter than those who don't. I mean, you now have the ability to converse with others about various topics. Unlike those who shy away due to a lack of understanding, you have the information to continue on a conversation. Because you've read up on specific topics and keep up with current events, you can fit into any environment.
Read Also: Here's why you shouldn't drink water just after you eat
5. Improves your ability to empathize with others:
People who read literary fiction — novels that explore the inner lives of individuals — have a greater ability to understand the feelings and beliefs of others, according to research.
This capacity is referred to as the "theory of mind" by researchers, and it is a set of skills necessary for forming, navigating, and maintaining social interactions.
While a single reading session of literary fiction is unlikely to elicit this reaction, research reveals that long-term fiction readers have a more developed theory of mind.
Read Also:
Kindly follow us on: 
Comments
comments