5 Reasons Why You Should Talk To Your Baby In The Womb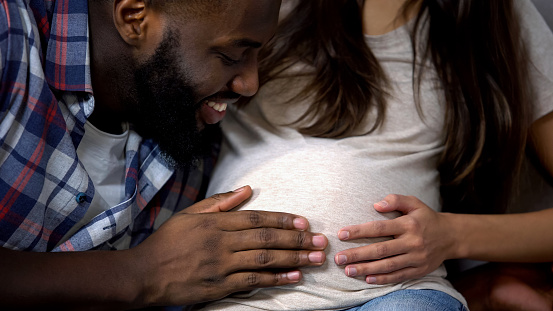 Is it possible to communicate with someone who hasn't been born yet? NO! This is supported by evidence that the baby reacts to external cues including touch, sound, and even scent.
Read Also: Watermelon: Reasons pregnant woman should make this fruit their favourite
1. Aids in the stimulation of a child's hearing
The development of the ears begins during week 25 of pregnancy, according to studies. Hearing is something that can be developed, unlike vision, which is inadequate since the fetus does not have access to the outside world.
During this stage, the microscopic hair that is beginning to form inside the ears is tuned into the world outside to be stimulated. A word of caution: do not expose yourself to a noisy environment, as sounds above 60 decibels can impair the auditory development of your child.
2. Aids in the development of spoken communication
Would it be unreasonable to believe that a newborn can remember words that you have used frequently? One study believes so and goes on to argue that familiarity can help create communication. This isn't surprising, given that learning any language necessitates a significant amount of listening. You can even expose them to multilingual television programming before they are born by exposing them to several languages on television.
3. Assists Your Baby in Getting to Know You
Just because they live inside you doesn't imply they'll learn everything there is to know about you. You'd have to communicate with them on a regular basis, sharing your hopes and anxieties, and they'd be willing to listen.
Infants were able to understand the feelings that their mothers were experiencing, according to a study. Is it feasible for someone to be familiar with another person's emotional makeup without knowing them? No, your unborn child is always listening, and interacting with them early can help them comprehend who you are.
4. Assists in the formation of a bond with the baby
Bonding with an unborn child isn't something you can learn from a book. It is something you must experience by conversing with him/her on a daily basis. Talking will help you reinforce the love you already have for your child and mentally prepare you for parenthood.
5. Assists in the strengthening of your relationship with your partner
Spending only a few minutes talking to your kid might be a great way to strengthen your bond. Couples who are too preoccupied with their daily lives can spend time together. Some couples even open up and chat about unresolved difficulties in a comfortable environment.
Read Also: 5 things every husband must do for his pregnant wife
Kindly follow us on: 
Comments
comments