A Short History On The Igbo People of Jamaica
Read Also: The Igbo New Yam Festival: A celebration to give thanks
Since the Igbo people were transported in large numbers to Jamaica as slaves, it's no surprise that the Jamaican Patois language contains several Igbo words.
Because of their light skin, the Igbo slaves in Jamaica were dubbed "Red Ibo" or "Red Eboe." Igbo slaves were identified by their fair or "yellow" complexion tones, a stereotype that still exists in modern-day Nigeria. The term "red eboe" is now used in Jamaica to denote people with light skin tones and African features.
Igbo people, who originated in West Africa's Biafra, were transported in large numbers to Jamaica as slaves between 1790 and 1809 as part of the transatlantic slave trade. Jamaica, after Virginia, was the second most popular port of call for slave ships arriving from Biafra.
Read Also: The things you never knew about Fulani Festival – The Sharo
During this time, the Igbos' culture and language became ingrained in Jamaican culture. The infusion of some Igbo terms into Jamaican Patois is one of the key outcomes of this diffusion.
These are some of the words:
Ima osu (Jamaica) Imu oso (Igbo)- to hiss by sucking your teeth
Akara (Jamaica) Akàrà (Igbo)– bean cake
Soso (Jamaica) Sọsọ (Igbo)- only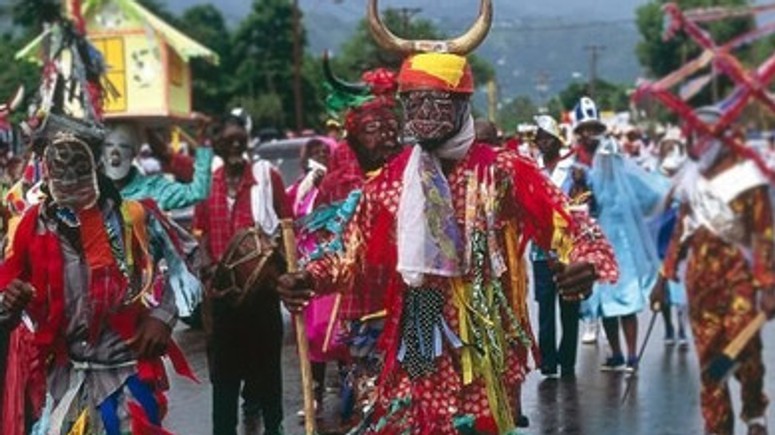 The Igbos also introduced the yam celebration, Jonkonnu, to Jamaica. It is simply known as the New Yam Festival in Nigeria. The Njoku Ji or "yam-spirit cult," Okonko and Ekpe of the Igbo are credited with creating Jonkonnu, a masquerade celebration held in Jamaica. According to locals, the Ibu Town is also named after the Ibo slaves.
Read Also: 5 things you should know before marrying a Yoruba man
The Igbo also had an impact on culture, with practices such as "sucking-teeth" (Igbo "ima osu") and "cutting-eye" (Igbo "iro anya").
Reports have it that "The Igbos have affected Jamaican culture, music, libation, the "ibo" style, idioms, language, and manner of life throughout its history. Jamaicans are so familiar with Igbo culture that it is normal to see Jamaicans watching Igbo Nollywood films. Some of their rural areas are modelled after those of the Igbo people of Eastern Nigeria."
We can't discuss Igbo slave history without mentioning Olaudah Equiano, a literate freed Igbo slave who was one of the first to record his experiences in a book. During the 1776 Mosquito Shore Scheme in Jamaica, he became an official and was essential in preserving law and order among the Igbos. He is also considered as one of the leading proponents of the slave trade's elimination.
Igbo slaves have a history of resisting servitude rather than revolting. According to many reports, slaves committed suicide because they believed that after death, they would be able to return to their homeland. Most slave traffickers were wary of having them as slaves after this suicide.
Read Also: Can you marry an Osu man/woman?
Kindly follow us on: 
Comments
comments