DO YOU KNOW DANIEL OLAWANDE POPULARLY CALLED "P. DANIEL"?
By Bisi Adewale –
There are several things very important to discuss with you about him.
You just have to take your time to read through the line to catch the secret
Now Read this;
Daniel Olawande fondly called P. Daniel is a polymath with a mandate to raise the burning generation by setting young people on fire for God in all spheres of influence.

He is an ordained minister in the Redeemed Christian Church of God, who serves as RCCG Youth Evangelist. He is the National Youth President coordinating the National Youth Representative Council (NYRC).
His assignment of revival, spiritual awakening and transformation to nations is being spread through several platforms like Fire In My Bones, a weekly program aired on Dove TV, Youth Aflame Conference (YAC), a conference for young professionals, Awakening the Giant Within Conference- with the vision of raising 360 degree leaders,
The Young Ministers Retreat (YMR) – a 72 hours end of the year retreat for all believers and young ministers in their thousands with the mandate of raising a burning generation who will emerge as kingdom ambassadors in every sphere of human
endeavour.
Read Also: Pastor Bisi Adewale gives out FREE BOOKS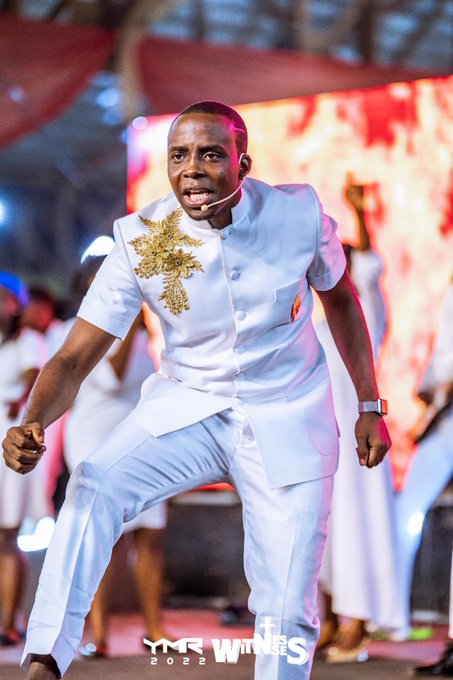 Therefore, with this great grace bestowed on him, little of which is mentioned, Attend the YOUTH FIRE CONFERENCE and experience the FIRE IN YOUR BONES for an encounter to be remembered as the New General of our days will be born in full strength
It promises to be a remarkable 24 hours Retreat of life-transforming encounters.
Details Below:
YOUTH FIRE CONFERENCE 2023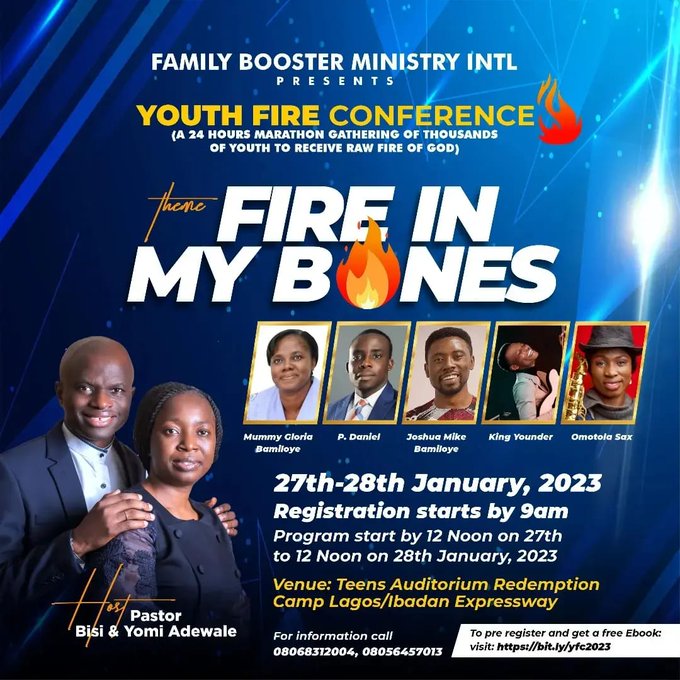 Date: Friday 27th – Saturday 28th January 2023.
Time: 12 pm Friday – 12 pm Saturday
24 Hours Outpouring of the Holy Ghost
Theme: Fire in My Bones
Venue: Redemption Camp
Ministering:
P. Daniel
Evan. Gloria Bamiloye,
Bro Joshua Mike-Bamiloye,
Pastor Bisi & Yomi Adewale
Admission is FREE
Check the flyer for further details
Just 22 DAYS TO GO…….
Read Also: 14 Notable quotes on the validity, and importance of 'Good attitude' by Bisi Adewale
Please follow @Familylifeline on Facebook