Parents Take Their 30-Year-Old Son To Court For Refusing To Leave Their House
It was like a drama as parents took their 30-year old son-Michael Rotondo to court over his refusal to move out of their house.
The parents
became forceful in his eviction after given him five notices and a cash offer to help him secure an apartment.
As reported by CNN, but Rotondo contends he is owed a six-month notice.
Rotondo told CNN's sister network HLN on Wednesday that he would love to leave as soon as possible — "I don't like living there" — but he was not able to do so immediately.
"I'm getting together the means to do that," he said. "With my parents, they want me out right away, and they're not really interested in providing reasonable time, and the court is siding with them, as it seems."
Notices sent to their son
Christina and Mark Rotondo of Camillus started the court proceedings earlier this month and filed evidence of five notices they served their son, starting in February.
One note on February 2 reads:
"
After a discussion with your Mother
, we have decided you must leave this house immediately. You have 14 days to vacate. You will not be allowed to return. We will take whatever actions are necessary to enforce this decision."
Shortly after this notice, his parents decided to seek legal counsel and served another notice on February 13, granting Michael 30 days to move out or they would begin enforcement procedures.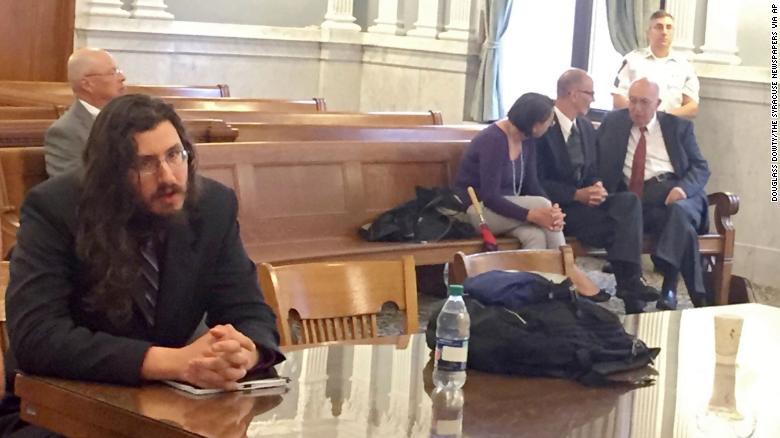 Michael Rotondo (left) at his eviction proceeding in Syracuse, New York. His parents, Mark and Christina, confer with their lawyer in the court gallery behind.
"Some advice:
1) Organize the things you need for work and to manage an apartment. Note: You will need stuff at (redacted). You must arrange the date and time through your Father so he can set it up with the tenant.
2) Sell the other things you have that have any significant value, (e.g. stereo, some tools etc.). This is especially true for any weapons you may have. You need the money and will have no place for the stuff.
3) There are jobs available even for those with a poor work history like you. Get one – you have to work!
4) If you want help finding a place your Mother has offered to help you."
Parents Take Their 30-Year-Old Son To Court For Refusing To Leave Their House